How does that saying go - If it wasn't for bad luck, we'd have no luck at all.
The 2011 - 2012 season hasn't exactly played out like the Irish expected. They came into the season ranked #1 in the polls, but it took all of one game to lose that ranking when they lost to defending national champion Minnesota-Duluth in their opening game. Like any good team though, they rebounded the next night and proceeded to jump out to a nice 10-2-3 start in their first 15 games.
I googled "Brian Kelly Smiles" - and this was about the best photo that came up
That's when things started to turn the other direction as Notre Dame is only 6-13-0 since that point. Coming into this weekend, Notre Dame is riding a five game losing streak, and you can point directly to their offensive production. The Irish have only scored four goals in their last five games. They've been shutout twice. Their last win was a 2-1 squeaker over last place Bowling Green.
Now all of a sudden things aren't as rosy for the Irish Hockey Team
This weekend is huge though for both teams. Notre Dame cannot actually catch Michigan State, but they certainly could knock the Spartans down a few spots. Both teams are fighting for home ice. Notre Dame currently sits in a tie for eighth place (11-12-3 CCHA, 16-15-3 overall) with Northern (Notre Dame has the tiebreaker). That is important since it is the last home ice spot in the first round. Michigan State holds the all-important fourth and final home ice spot for the CCHA quarterfinals coming into this weekend posting wins in five of their last six games (13-10-3-2 CCHA, 18-12-4 overall). All that stands between home ice and these two teams is each other. Win - and they are playing at home. Lose - and they'll need help (though MSU could still play at home - just in the first round).
It should be noted that MSU is guaranteed a home ice series in the first round, should they fall into sixth place. MSU cannot fall further than sixth based on who plays this weekend. Notre Dame, Northern Michigan, Alaska, and Bowling Green are guaranteed to finish behind MSU. Miami or Ohio State is also guaranteed to finish behind MSU, because they play each other and both teams cannot earn enough points this weekend to pass MSU (though - each team has a chance to pass MSU, just both won't be able to). This means five teams (11th, 10th, 9th, 8th, and 7th) will finish behind MSU. This means MSU cannot finish lower than sixth. The issue will be finishing in fifth place - that will be good enough for a bye, but they'll be on the road. MSU could finish in second with a lot of help - but don't expect it. Michigan travels to last place Bowling Green. MSU would have to earn one more point than Western, four more than Michigan, and no fewer than one less point than what Miami earns to get second place. Got it?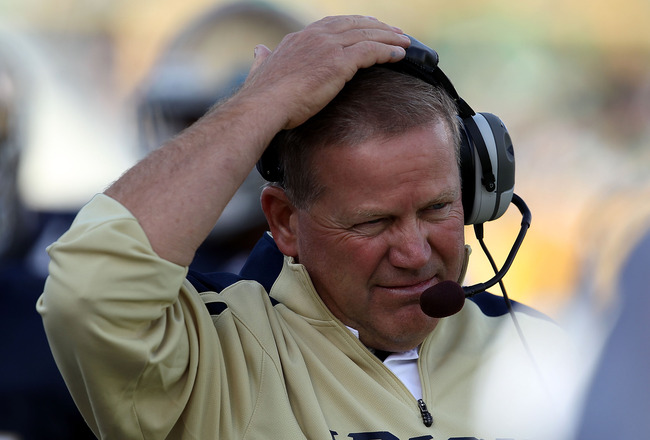 Oh man, I think my head hurts - why can't ND be independent in hockey too?
Did you catch all that coach?
What makes this even better, is Notre Dame could finish as high as a tie for fifth or as bad as ninth. It gets even better when you throw the NCAA picture into this mess. Michigan State sits in 10th place in the PairWise and Notre Dame has fallen all the way to 22nd. Basically, both teams really need to win this weekend. The Irish need to win it to avoid us calling a code blue on the Irish NCAA at-large hopes, and Michigan State needs to avoid a bad weekend to fall back on the bubble - or worse - right past the bubble.
Behind Enemy Lines:
Top Scorers:
T.J. Tynan 12 goals, 27 points (tied w/ Krug for the lead in conference points)
Andres Lee 14 goals, 30 points
Riley Sheahan 9 goals, 24 points (Red Wings draft pick)
Billy Maday 9 goals, 21 points
Austin Wuthrich 7 goals, 16 points
I should point out that four of these guys are not seniors. Tynan and Lee are sophomores, Wuthrich is just a freshman, and Sheahan is a junior. That makes for a bright future for the Irish, if they all come back. It'll be interesting to see who comes out on top after the weekend in conference scoring. Torey Krug has a chance, and for MSU to be successful this weekend, it'll help to see a lot of this:
All-American Candidate Torey Krug needs to show the Irish what Touchdown Jesus is really doing
In goal:
Mike Johnson 9-9-3, 2.63 GAA, .886 save %
Steven Summerhays 7-6-0, 2.93 GAA, .887 save %
Not exactly gaudy goaltender numbers there considering ND and Jeff Jackson usually pride themselves on defense, defense, defense.
The Team Comparison:
Offense:
Michigan State 3.09 Goals/Game (2nd CCHA)
Notre Dame 2.62 Goals/Game (8th CCHA)
Defense:
Michigan State 2.53 Goals/Game (7th CCHA)
Notre Dame 2.82 Goals/Game (T-10th CCHA)
Power Play:
Michigan State 17.7% (23 for 130, 7th CCHA)
Notre Dame 18.8 % (31 for 165, 3rd CCHA)
Penalty Kill:
Michigan State 89.2 % (116 for 130, 1st CCHA - and it's not even close)
Notre Dame 80.6% (104 for 129, T-10th CCHA)
The second best PK in the CCHA has only killed off 85.3% of the power plays they've faced. That's a pretty large gap between first and second.
Notre Dame appears to give off to slow starts, as they have been outscored 37-22 in opening periods. They do comeback strong though holding a 36-29 edge in the second stanza. The third period is close as ND has been outscored by a 30-29 margin. Michigan State generally gets off to decent starts outscoring teams 35-29 in the opening frame, 34-26 in the middle frame, and 34-28 in the final period.
Michigan State holds a 59-38-4 all-time edge in this series, but Notre Dame holds a 24-21-7 edge in South Bend. What might be scary for MSU fans is MSU is on a 10 game winless streak against Notre Dame (0-7-3). Michigan State hasn't won in South Bend since 2006.
Which I guess that means Michigan State is due to win in South Bend.

Both games are on TV (yay!). 8:35 pm face-off time on Friday (CBSCS) and Comcast has the 7:35 pm tilt on Saturday. 1240 AM on your radio dial Friday, 730 AM on Saturday due to the basketball game
Coach Jackson hasn't had a lot to smile about lately - all he needs is a little puck luck.
Final Thoughts:
This series is an absolute must have for both teams. That means we will probably see some great hockey this weekend. Michigan State is riding a nice little winning wave, and Notre Dame isn't. However, don't expect the Irish to simply roll over. The Irish will have the size advantage (no surprise there), and they haven't been a good match-up for Michigan State lately (thus the winless streak), but this year's Michigan State team has been a little different. Anything less than an all out effort this weekend will probably result in needing help to finish in the top four. The hockey team needs to take a page out of the basketball team's book - go into a tough environment - and pull out a pair of good wins. MSU leads Miami by two points, so State needs five to guarantee home ice (Miami would hold the head to head tiebreaker). That's a win and a shoot-out win. The only thing they can control is what they do, so there is no sense in looking up at the scoreboard.
Win, and then you won't need to worry about having any luck at all.